Body Magic women's retreat at Orr Hot Springs

This April we'll bring some deep healing to our bodies and souls, soaking in the hot mineral baths, moving our bodies in yoga and dance, and inviting compassionate awareness through ritual and meditation.

We will meet up at Orr Hot Springs Friday, April 24th at 2pm and stay through Sunday the 26st at 2pm. Our little group will fill the Creekhouse Hotel; the downstairs has a large room for our gatherings, kitchen, and dining room, and the upstairs has two big dorm-style rooms each with a half bath and 6 beds (2 queen, 2 single, and 2 floor futons). It's a short walk to the springs which we'll share with other guests.

The retreat price is a sliding scale which includes Friday dinner through Sunday brunch (created by the amazing Autumn Orion!) Ours will be a small, intimate group. Please contact me by email with questions or to reserve your spot.
I am so looking forward to spending this renewal time together! Seeing your sweet faces, letting the healing water melt our worries away, nurturing, supporting and healing ourselves and each other, and savoring the delicious magic of our being together in such a loving way.
Orr Hot Springs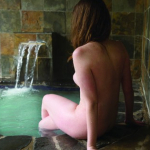 Orr Hot Springs is a small, tranquil resort settled deep in the rolling hills between the towns of Mendocino and Ukiah.
Seven Victorian porcelain tubs continually fill with mineral water at an average temperature of 104°F. Five are in private rooms, and two "Stargazing" tubs are on the Bathhouse deck. There are two communal tubs – one under a covered roof and two outdoors. These pools range in temperature from 104°F to 107°F. Clothing is optional.
Our 15' x 59' spring-fed cold pool ranges from 60°-70°F, providing a refreshing change from the hot baths.
Next to the swimming pool are our gas-fired Sauna and Steam rooms.